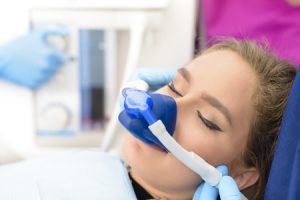 Sedation Dentistry is used to provide a relaxing and anxiety-free experience for certain people receiving dental treatment. It enables individuals too afraid to go to the dentist to receive the dental care they need while avoiding the common apprehension known as dental phobia.
According to to the Dental Organization for Conscious Sedation (DOCS Education), a professional dental organization dedicated to ensuring that patients receive safe, comfortable and anxiety-free dental care, 30 percent of the population avoids the dentist due to fear. This all-too-common "dental phobia" prevents people from receiving necessary routine dental care, potentially compromising the health and functionality of their mouth and smile.
What is Sedation?
Sedation is a process used to establish a relaxed, easy and calm state through the use of sedatives. Sedative drugs (tranquillizers, depressants, anti-anxiety medications, nitrous oxide, etc.) can be administered in a variety of ways. In the past, intravenous (IV) sedation – sedatives delivered via injection into the blood vessels of the hand or arm – was predominantly used to sedate a dental patient.
IV sedation is both safe and effective when administered by a trained professional. Today, however, sedation dentistry has evolved to be even more conducive to a relaxing experience. Patients have alternatives to the traditional modalities of inhalation (nitrous oxide or "laughing gas") and IVs, such as those offering a "no needle" (meaning, no injection) approach that many people find more appealing.
Oral sedation dentistry is now the most common technique used in the United States and Canada to quell patient fears. The technique is easy and requires no needles. Best of all, the medications create such a comfortable experience that most patients do not remember the visit; it is as if they slept through the treatment. In reality, oral sedation dentistry maintains a level of consciousness in the patient for safety and cooperation. To learn more, visit SedationCare.com. Note that sedation is different from anesthetic injections. Although some forms of sedation (such as nitrous oxide gas) may raise your threshold for pain, most dental treatments still require a local anesthetic injected in the mouth, even when sedation dentistry techniques are performed.
This local anesthetic will temporarily block pain impulses from the affected teeth and gum tissue. However, this injection will occur after you are already sedated and comfortable, so most likely you won't be bothered by or remember the sensation of having the injection.