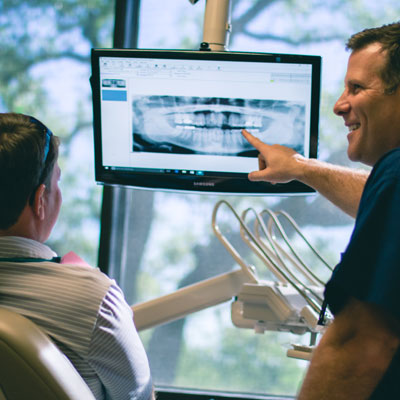 Digital x-rays are computer generated images. These images require up to 90% less radiation than with conventional film type x-rays. Instead of using the traditional silver-oxide x-ray film that must be developed and then fixed in caustic and environmentally damaging solutions, the new system takes pictures via a small electronic sensor and it then instantaneously transmits a picture of the tooth onto the video monitor in the treatment room. Therefore, we can see your teeth and surrounding structures immediately. Not only does the new digital x-ray eliminate the usual wait for x-ray film to be processed, but it also is highly sensitive, so that patients are exposed to even less radiation than with conventional x-rays.
How often should digital x-rays be taken?
The need for digital x-rays depends on each patient's individual dental health needs. Your dentist and dental hygienist will recommend necessary x-rays based on the review of your medical and dental history, dental exam, signs and symptoms, age consideration, and risk for disease.
A full mouth series of digital x-rays is recommended for new patients. A full series is usually good for three to five years.