Technology
Quality and comfort are our top priorities.


Your Invisalign treatment will consist of a series of aligners that you switch out about every two weeks. Each aligner is individually manufactured with exact calculations to gradually shift your teeth into place. And since your Invisalign system is custom-made for your teeth and your teeth only, with a plan devised by you and your dentist or orthodontist, you know you'll end up with a smile that truly fits.
Nothing else measures up to Invisalign
When it comes to considering your options for a smile makeover, it's easy to see Invisalign's advantages. So there's a reason to smile. Compare Invisalign to other teeth straightening options. Then you can see if Invisalign is right for you and your smile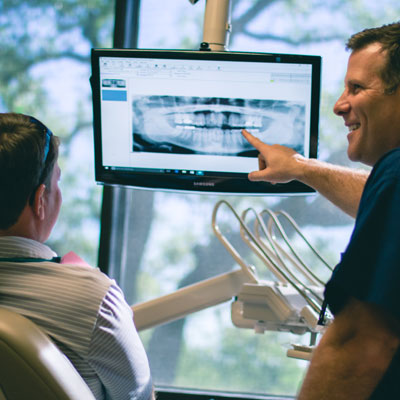 Digital x-rays are computer generated images. These images require up to 90% less radiation than with conventional film type x-rays. Instead of using the traditional silver-oxide x-ray film that must be developed and then fixed in caustic and environmentally damaging solutions, the new system takes pictures via a small electronic sensor and it then instantaneously transmits a picture of the tooth onto the video monitor in the treatment room. Therefore, we can see your teeth and surrounding structures immediately. Not only does the new digital x-ray eliminate the usual wait for x-ray film to be processed, but it also is highly sensitive, so that patients are exposed to even less radiation than with conventional x-rays.
How often should digital x-rays be taken?
The need for digital x-rays depends on each patient's individual dental health needs. Your dentist and dental hygienist will recommend necessary x-rays based on the review of your medical and dental history, dental exam, signs and symptoms, age consideration, and risk for disease.
A full mouth series of digital x-rays is recommended for new patients. A full series is usually good for three to five years.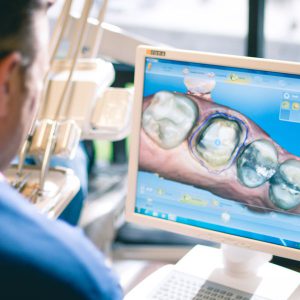 Since 1985 CEREC by Sirona has remained the preferred CAD/CAM technology of dentists worldwide for the fabrication of all-ceramic dental restorations in a single treatment appointment. CEREC is proven by hundreds of clinical studies and is offered by thousands of dentists to millions of patients around the world each year.
Single Appointment Dental Care
Most dental restorative methods require more than one visit to the dentist. This means that on the first visit, you get an injection of anesthesia, your tooth prepared, an impression taken, and a temporary restoration put on your tooth. You make a second appointment for a couple of weeks later, get another injection, have the temporary pried off (if it hasn't fallen off already), and have a permanent restoration put on. Why go to the dentist a second time when you don't have to? With CEREC, the procedure is done in a single appointment, start to finish.
Finest Dental Materials
A CEREC crown isn't just convenient, it is also healthy. Many years ago, dentists had few options to repair decayed and damaged teeth other than silver amalgam, gold, and other metals. With CEREC, Dr. Horne can use strong, tooth colored ceramic materials to restore your teeth to their natural strength, beauty, and function.
These materials closely match the composition of natural tooth structure. This means when you eat hot food and then drink something cold, the restoration and tooth expand and contract at almost equal rates. Your tooth won't crack and you can go on enjoying your evening. Also, the materials are chemically bonded to your tooth, so healthy tooth tissue is preserved as much as possible.